For the past 2 years, oncology practitioners around the world have struggled with the same dilemma: how to maintain their patients' cancer care without exposing them to COVID-19. Regardless of the country, language, or even which wave of the pandemic, the conversations have likely been very similar: weighing risks vs benefits, and individualizing each patient's pandemic cancer plan.
But one question most oncologists have probably overlooked in these discussions is about where their patients get their COVID information — or misinformation.
Surprisingly, this seemingly small detail could make a big difference in a patient's prognosis.
A recent study found that adult cancer patients are more vulnerable to COVID misinformation compared with healthy controls, building on an earlier finding of similar vulnerabilities among parents of children with cancer compared with parents of healthy children.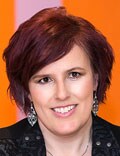 "It doesn't matter what you search for, there is an overwhelming level of information online," said the lead author on both studies, Jeanine Guidry, PhD, from Virginia Commonwealth University's (VCU) Massey Cancer Center in Richmond, in an interview. "If misinformation is the first thing you encounter about a topic, you're much more likely to believe it and it's going to be very hard to convince you otherwise."
Before the pandemic, Guidry, who is assistant professor in the Richard T. Robertson School of Media and Culture and director of the Media+Health Lab at VCU, had already been studying vaccine misinformation on Pinterest and Instagram.
So when data coming out at the start of the pandemic suggested that an increase in pediatric cancer mortality might be partially because of COVID-19 misinformation, she jumped on it.
Guidry and her team designed a questionnaire involving COVID misinformation statements available online and found that parents of children with cancer were significantly more likely to endorse them compared with parents of healthy children.
"Our advice to clinicians is you may have an issue here," Guidry told Medscape Medical News. "You may want to check where they get their news, and if there's any pieces of misinformation that could be harmful."
Some beliefs, such as eating more garlic protects against COVID, are not particularly harmful, she acknowledged, but others — such as drinking bleach being protective — are quite harmful, and they often stem from the same misinformation sources.
Both of Guidry's studies involved surveys of either adult patients with cancer or parents of children with cancer.
The adult patient survey was conducted June 1-15, 2020 and included 897 respondents, of whom 287 were patients in active treatment for cancer, 301 were survivors not currently in treatment, and 309 had no cancer history.
The parents' survey, conducted in May 2020, included 735 parents of children aged 2-17 years, 315 of whom had children currently undergoing cancer treatment, and 420 of whom had children with no history of cancer.
Among the misinformation they were asked to agree or disagree with were statements such as "it is unsafe to receive mail from China," "antibiotics can prevent and treat COVID-19," and "COVID is less deadly than then 'flu," among others.
The surveys revealed that the patients in current treatment for cancer and the parents of patients in current treatment were most likely to endorse COVID misinformation. Results from the parents' survey showed that "believ­ing misinformation was also more likely for fathers, younger parents, and parents with higher perceived stress from COVID-19," the authors write. Among adult patients and controls, patients in active treatment were most likely to believe misinformation, with cancer survivors no longer in treatment being the least likely to believe it, compared with healthy controls who were in-between.
Why the difference? The authors suggest that patients in active treatment "may seek out more information on the internet or via social media where they are more exposed to misinformation," whereas survivors no longer undergoing treatment may be more "media savvy and have learned to be wary of questionable health information."
In their articles, Guidry and her team advise oncologists to be aware of their patients' potential to endorse COVID misinformation and to "proac­tively address this in routine visits as well as tailored written materials." This is easier said than done, she commented, acknowledging that keeping up with the latest misinformation is a challenge.
The misinformation statements her group used in their surveys were popular early in the pandemic, but "some of them have shown fairly remarkable staying power and some have been replaced," she said. She invited interested clinicians to contact her team for guidance on newer misinformation.
Ultimately, she believes most patients with cancer who endorse misinformation are simply afraid, and looking for help. "They're already dealing with a level of stress from their illness and then they're thrown into a pandemic," Guidry said. "At some point you just want a solution. Hydroxychloroquine? Great! Horse de-wormer? Fantastic! Just wanting to control the situation and not having something else to deal with."
Both studies were funded by the National Cancer In­stitute at the National Institutes of Health. The authors have disclosed no relevant financial relationships.
Patient Educ Couns. Published in the February 2022 edition. Full text
Emerg Infect Dis. Published in the February 2021 edition. Full text
Kate Johnson is a Montreal-based freelance medical journalist who has been writing for more than 30 years about all areas of medicine.
For more from Medscape Oncology, join us on Twitter and Facebook
Credits:
Lead Image: iStock/Getty Images
Image 1: Jeanine Guidry, PhD
Medscape Medical News © 2022

Send news tips to news@medscape.net.
Cite this: Cancer Patients Vulnerable to COVID Misinformation - Medscape - Mar 16, 2022.